TGIF
Thank goodness its Friday. This has been a well a week. Between me being sick, Evie having a cough and getting shots and trying to deal with a rent house mess (yes still working on that), we are glad its Friday. I'm heading out to a hearing but then its Friday and the weekend has begun.
E finally got her 4 month shots yesterday after our insurance snaphoo last week. She took them like a champ and slept wonderfully for 2 hours when we got home. She is also learning to get herself back to sleep at night. Mostly because I have put down the iron mommy fist and let her talk it out, cry it our, figure it out. Last night she gabbed for 30 minute before she started to cry. I turned the sound on the monitor off and 30 minutes later, girl was fast asleep. Call me a horrible parent, but sometimes you just have to let them figure out they are ok without you constantly popping a paci back in or rocking them.
E is also a roly poly lately. She just rolls all over the place. In fact, she did a complete 365 in her crib last night. Crazy girl.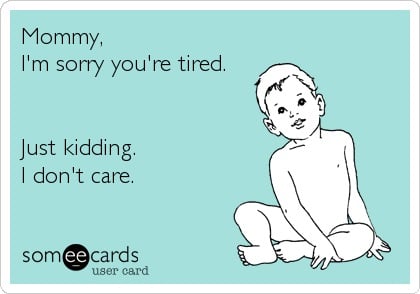 Tomorrow I am taking her to The Little Gym to try out their music and play program for infants. I want her to be around other babies and experience music and play so hoping this might be a fun weekly event.
And I would photodump for you but 1. I left my phone at home and 2. I am a horrible mom and haven't taken any photos this week (sick, busy, sorry not sorry.)
Have a grand weekend ya'll.